Plans and designs to give shape to tastiness
The first step of developing any product is holding a meeting. Here we listen closely to our customers so as to fully understand their ideas.
Our development staff, who will be responsible for drafting concrete plans, join the meeting and consider whether it's technologically possible to meet our customer's new product request. We are also joined by our sales staff, who help gauge our customer's needs and can pitch the services that best suit them. The development staff, who will be responsible for the project, is fully in charge of the development period until the time the new product hits the production line. Next, multiple internal meetings with the development team are held at our parent company, Nisshin Nyugyo, and we pour effort into the two main pillars of manufacturing: project plan development and joint technology development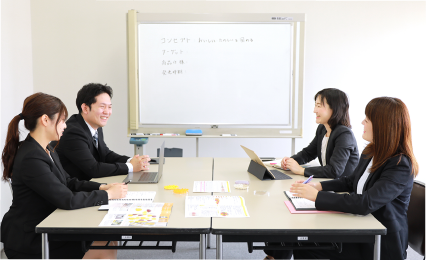 It's no stretch to say that developing new products is a matter of trial and repetition.
One important question is how to combine the colors, shapes, flavors, and other matters of preference sought after in confections together with the functionality demanded by modern times. Moreover, we must also ask ourselves how we can create a product that exceeds our customers' expectations. In short, there are many problems that must be faced. We begin approaching a finished product only after repeated trial and error and hands-on work. Once prototypes are somewhat near completion, we use production equipment available in the development room to determine whether the product would be compatible with the production line.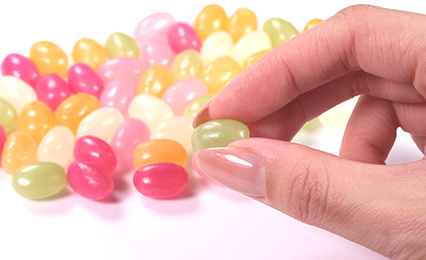 We continuously research, experiment, and inspect until completely satisfied with the product. There are even times when we have to start all the way back at square one and rethink ingredients.
The next step is to put the finished prototype through multiple table tests and line tests. The prototype is examined by engineers at the table tests and technicians at the line tests to determine whether or not it is fit for production. Only products that manage to pass these test will enter full production. A second quality check is performed upon completed products fresh off the production line to check how well they endure temperature, humidity, and other factors. New products that pass this inspection are finally ready for shipping. And thus a new kind of tastiness is born.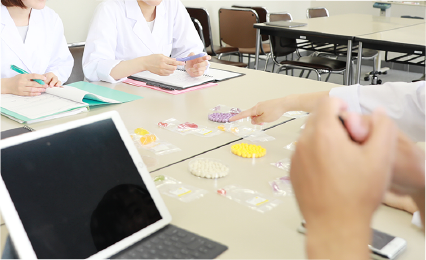 Produced on our thoroughly quality
controlled production line (ISO-certified).
"Quality First"
Our company has taken a firm "quality first" stance since its inception, and we always strive to provide our customers with highly satisfactory products. We make products on our thoroughly quality controlled production line (which gained ISO9001 certification as of July 2003) using carefully selected raw ingredients.
Our final products are further subjected to a number of rigorous quality tests, including taste tests which take into consideration hardness and flavor, specification tests which examine sizes and moisture amounts, and microbiological inspections.
We also believe that it is our duty to ensure top quality every step of the way until the product finally reaches our customers We prepare the product for all possible environments it may enter during shipment, and perform quality control tests to ensure that it can withstand harsh conditions like high heat and high humidity.
Only products which clear these inspections will enter the market.