Merits

of

Gummies
One unique trait of gummies is that they contain 15% moisture or more and can hold in flavor well. When you consider that standard candies contain around just 2% moisture, that's quite the remarkable difference.
For this reason, highly concentrated liquids like fruit juice can easily be given a solid body. It's also possible to adjust the amounts and types of gelatin and pectin, ingredients used for congealing, so as to make gummies harder or softer and bring out an array of variation in texture.
This is a notable difference from other candies or treats, and the ability to mix and combine flavors and textures gives gummies the power to meet a wide variety of customer needs. That is one of the biggest merits of gummies.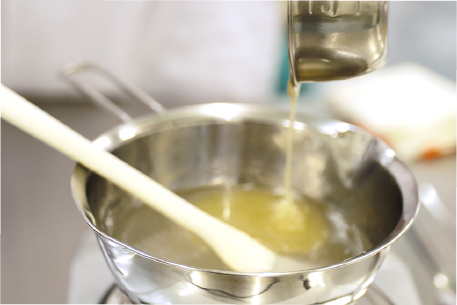 Think about the

meaning of hardening
The solidifying process could also make it easier to handle liquid food products that are hard to carry in very small amounts.
Take, for instance, seasonings such as mirin.
Imagine if rather than a liquid, you instead had just a single tablespoon amount of mirin or other seasonings in gummy form for when you only need a small amount. It would be light and easy to carry, as well as perfect for use away from the kitchen, such as on camping trips. Further, you wouldn't have the unnecessary waste that you find with single-serving containers of liquid, meaning the product would ultimately be better for the environment as well.
As you can see, the process of solidifying has a lot of added benefits.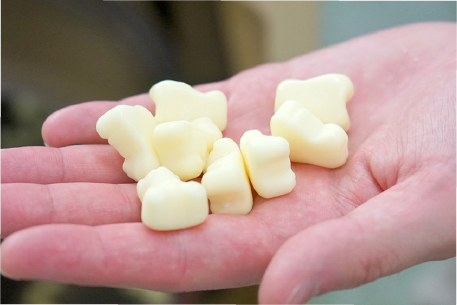 How to use the

new gummies
Of course this is true for any standard treat containing fruit juice, but our studies show that by researching and toying with the composition of gummies' raw ingredients, gelatin and pectin, it might be possible to develop a gummy that can be put in the oven without risk of burning or ruining its form, all while maintaining its taste and texture.
If this indeed turns out to be possible, then gummies could be used as new toppings for cooking, transcending their classification as a "candy" or "treat" and leading to a number of new uses.
We're already providing gummies that retain their texture at the opposite end of the temperature spectrum, with gummies that are used as toppings for ice cream. Through further research, we aim to continue developing gummies that might be used with even more frozen treats and frozen food products in the future.